Welcome to Saigon School Bus !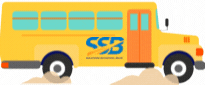 Saigon School Bus (SSB) was established in 2018 in HCMC with the main mission of providing a safe, reliable, convenient, and effective school bus service for international schools in HCMC.
We build up our fleet with modern vehicles, well-trained bus staff, organize regular first-aid and safety training. In addition, all of our employed bus staff have no criminal records and valid health reports that meet the working requirements by law.
We understand the worry from parents, the difficulties and limitations of the road condition, and other factors; Saigon School Bus has developed and administered the mobile application ​(SBMS – School Bus Management System) to operate and manage school bus service safely and efficiently.
​With our advanced School Bus Management System (SBSM), schools can minimize the workload for the bus team, enhance the efficiency and accuracy in bus management and reinforce the convenience and assurance for parents. Parents can check or view bus information online, contact the bus supervisor quickly, and closely supervise the school bus journey.
Currently, our School Bus Management System is proudly being used to manage the school bus service in :